Open House and Membership Drive – October 17, 2022
We'd like to thank all those who joined us at our open house. It was a pleasure meeting everyone and sharing all that the Archive has to offer.
Florence Pioneers Day Parade – September 2022
A few of our lovely board members, rode the fire truck as Spirits in historic costumes. The Archive hosted a booth in the park, with goodies, books, other items and introducing our handmade, one of a kind, "Meese's", for sale.
Lecture Series – July through November 2022
FHAI presented a series of monthly lectures at the Bell Tower Cultural Center in Florence. Historic Florence Buildings and the migration of local Florence founding families were explored.
Florence Farmers Market, Pioneer Park, Florence – June through September 2022
Each month centered on a specific topic, with each week highlighted a specific aspect of the presented topic. The Genealogy, Buildings, Other Features and Environment were presented for each Front Street, Florence and Rainbow Park. Drinking Water, Ditches, Water Rights, Today's Water System were presented during the month covering Water/Ditches/Agriculture. Finishing with Cemeteries – Florence Cemeteries, Cemetery Inhabitants, Symbolism, Summary.
Pikes Peak History Coalition Meeting – May 23, 2022
FHAI hosted the Pikes Peak History Coalition bi-monthly meeting. A continental breakfast was served prior to the Coalition meeting; followed by a tour of the Archive and lunch.
Cañon City's Sesquicentennial Celebration Trolly Tour – April 2022
FHA members appeared as "Spirits" (Mrs. Jacks portrayal)
FCHS Chairwoman, Gloria Stultz (L), presented the Doc Little Award to Dr. Mildred Wintz (R)

Doc Little Award goes to Dr. Mildred Wintz (L) with Margaret Storm (R)
Fremont County, Colorado 160th Birthday – 2021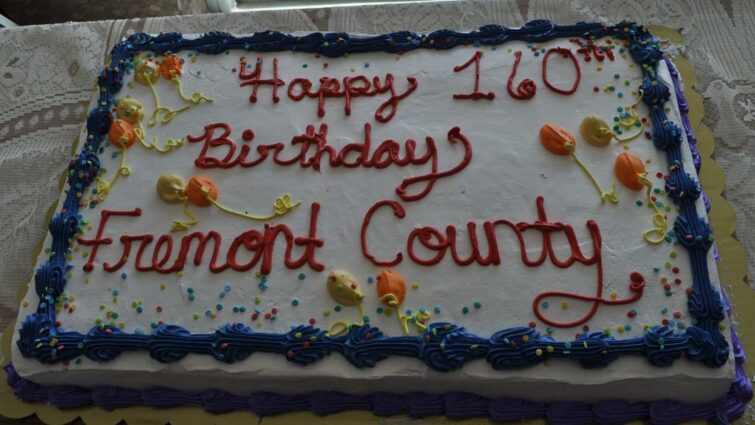 Voices from the Archive – Stories of Immigrants and Pioneers in Their Own Words – 2021
Earliest Residents and the Hardscrabble Settlement; Immigration Patterns to Colorado and Fremont County; Innovative Farmer, Jesse Frazer, and his original Abstract, The Weight of Water; Ditch Development and its Pioneers Including the DeWeese-Dye Ditch; The Reminisces and Legacy of Edwin Biehl Lobach, Founding Fathers' Early Land Claims: Herrington, May, McCumber, McCandless, Musser, Rockafellow, Tanner, Toof; Yugoslavian and other Eastern European Immigrant groups and their Cultures. – Families: Javernick, Ziolkowski, Slack, and others; Family Wagon Farms of Brewster; Graham, Lippis, Vendetti; How the Village Was Formed; The Business That Jack Built -The Jack Family and their Florence Businesses
Archive Open House – September 2021
A chance to see the hidden treasures of the Archive. Coffee and goodies served with a tour of the Archive facility.
Elementary School Visits – April 2021
Students from local schools visited to learn about the history of schools, railroads, mining, and economics in Fremont County as well as how to do research and set up a timeline.
Yellow and Red Roses – Rightfully Hers – Four Looks at the History of the 19th Amendment – 2020
Colorado was the first state to ratify women's suffrage in 1893
United States Constitution – AMENDMENT XIX
Passed by Congress June 4, 1919. Ratified August 18, 1920.
The right of citizens of the United States to vote shall not be denied or abridged by the United States or by any State on account of sex. Congress shall have power to enforce this article by appropriate legislation.
Railroad Display in the Fremont County Administration Building – 2019 (On Display at the Archive)
An amazing display of the trains of Fremont County in a vertical display case created by the members of the archive who built the track, oil wells and train stations from scratch and painted mountains, rivers, and other landscape features over several weeks.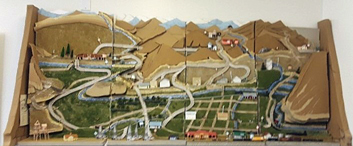 Railroad History of Fremont County – 2019
Builders and Money, Trolleys and Transportation, Coal Camp Spurs, Horrifying to Heartwarming, Depots of Eastern and Western Fremont County, Refineries & Smelters, Colorado Importance and Impact, Royal Gorge Railroad Wars, Visions of an Electric Railway in Fremont County
Senior Mini College – 2019
A collaboration between the Florence Historical Archive and Florence Museum
Senior Mini College – 2018
Florence McCandless Family (Quilt on display at the Archive)